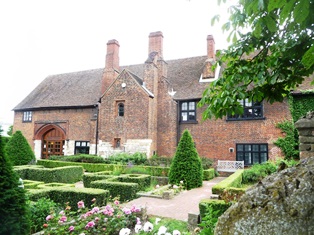 Above: The gate house of King Henry VIII's Royal Manor House completed c.1544. This is the remaining part of the complex.
The inaugural meeting of the Society was on Monday 3rd October 1910 at Buck's Rooms, High Street, Dartford. It was named the Dartford District Antiquarian Society and had a membership of twelve people. Its purpose was "to encourage the study of local antiquities and to examine and record as far as possible all evidence of historic and prehistoric remains of antiquarian interest within the district".
A year later, in 1911, the membership had risen to over one hundred including the Archbishop of Canterbury (the Society's Patron) and S. K. Keyes (President). E. C. Youens and S. Priest also joined with others to form the Society's Council. An annual report was published which contained the members' archaeological and historical research work.
In 1913, during a period of expansion at J. & E. Hall Limited, the Society was involved with an archaeological investigation of Henry VIII's Manor House in Priory Road.
In 1926, the Society became affiliated to the Kent Archaeological Society and the S.E. Union of Scientific Societies.
Five years later, in 1931, the first issue of its "Transactions" was published. This included articles relating to the previous 21 years of the Society.
During the 1930s the Society was associated with the excavation of an Iron-Age site at Crayford and also excavated an important Anglo-Saxon Cemetery at Riseley, Horton Kirby. Material from both sites is now housed in Dartford Borough Museum, although for a time some of the Riseley material was displayed in the British Museum.
In 1964, the Society was renamed the Dartford Historical and Antiquarian Society and in the same year published the first of its Newsletters. These are still published each year and include a varied selection of historical and archaeological research articles. The current Newsletter is available at Dartford Library.
The Society does not currently undertake fieldwork, which is left to the excellent Dartford District Archaeological Group. We do, however, undertake photographic and other historical surveys especially to preserve what is left of our town's ancient buildings.
All that is required to become a member is an interest in the history of our locality. Included in the Annual Subscription are a winter programme of lectures and the Newsletter.
A social outing using own transport to a local place of interest and coach outings are arranged for the summer months.
If you would like to join the Society complete the Membership Form (or use the menu to navigate to the 'Join Us' page) and post with subscription to:
DHAS, 'Rosemont' 15 High Road, Wilmington, Dartford, Kent, DA2 7EQ. Please enclose a stamped, self addressed envelope.
 
Enquiries to email: [email protected]